When it comes to Texas style Chili, the verdict is still out. It seems that you have some that would swear that Texas Chili doesn't contain beans and others that would swear it does, OR that you should use stew meat instead of ground. I'm not one to say that there's only one way. I'll just say, "if it's good, it's right."
I grew up with ground beef in my Chili. Sometimes we had beans and sometimes we didn't, though I always liked my Chili with beans. We used Pinto style beans, most often, but I like red beans or "kidney beans" just fine.
What you'll need...
1 tbsp. vegetable oil
1 medium onion, medium dice
3 cloves of garlic, minced
1 to 1-1/2 lbs. Ground meat (beef is traditional, but I use turkey if I want to lighten it up)
2 tbsp. Paprika
1 tbsp. Chili Powder
2 tsp. Garlic Powder
2 tsp. Onion Powder
1 tsp. Cumin
2 tsp. salt, plus more to taste
1 tsp. Black Pepper
a pinch Cayenne Pepper
2 Cascavel Chilis, seeded
2 tsp. beef bullion dissolved in 2 cups water
1 (28 oz.) can diced tomatoes
1 (15 oz.) can Red Beans
Dash of Tabasco
In a heavy bottom pot, heat oil. Saute onion until soft, add minced garlic in the last minute to flavor the oil. Add ground meat and begin to cook, stirring often to crumble the meat. Add seasonings about half way through cooking the meat, stirring to incorporate evenly. When meat is done, add tomatoes with juice, beans, and beef broth. In a separate heated skillet, place Cascavel chilis flesh side down for about ten seconds to release their flavors. Throw them in a blender with a little of the broth ( about 1/3 cup) from the pot of chili. Puree in blender and add pureed chilis in broth back to pot. Simmer on low heat for about 30 minutes to an hour. Some people prefer to cook longer on a low heat, but that's your call. Adjust seasonings to taste before serving. Garnish with shredded cheddar, green onion, cilantro, or crumbled cornbread. Heck, my Grandpa was even known to eat his chili with saltines. Let your taste buds do the talking.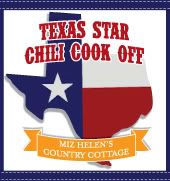 I'm entering the 2011 Texas Star Chili Cook Off over @ Miz Helen's Country Cottage!