This is another of the recipes I found thumbing through a mag at the Doc's office. This was easy, filling, and inexpensive to make, great for a week night supper. We loved it so much that we ate it up before I could snap a pic which explains the magazine's photo : )

Ingredients

6 tablespoons

unsalted butter

1/4 cup

all-purpose flour

4 cups

whole milk (I used fat free since that's what I had on hand)

1 cup

sour cream

kosher salt and black pepper to taste (I also used about 2 tsps. garlic & onion powder, and approximately 2 tsps. Cajun seasoning)

12 ounces

egg noodles

4

slices sandwich bread (I used enough plain bread crumbs to cover the dish and doctored 'em up with a Cajun seasoning, crushed parsley, and grated Parmesan)

2 cups

shredded cooked chicken or rotisserie chicken

5 ounces

baby spinach, chopped (I used a bag of frozen, chopped spinach since, again, that's what I had on hand)

2 teaspoons

dried

thyme



Heat oven to 400° F. Melt 4 tablespoons of the butter in a large saucepan over medium heat. Add the flour and cook, stirring, until foamy, 1 to 2 minutes (do not let the mixture darken). Slowly whisk in the milk. Bring to a simmer and cook, whisking often, until thickened, 3 to 5 minutes. Remove from heat and whisk in the sour cream, 1 teaspoon salt, and ¼ teaspoon pepper.
Meanwhile, cook the noodles according to the package directions; drain and return them to the pot. Pulse the bread in a food processor until coarse crumbs form. Melt the remaining 2 tablespoons of butter in a microwave-safe bowl.
Add the milk mixture, chicken, spinach, and thyme to the noodles and toss to combine. Transfer to a 9-by-13-inch or some other 3-quart baking dish, sprinkle with the bread crumbs, and drizzle with the melted butter.
Bake until the bread crumbs are golden and the filling is bubbling, 8 to 10 minutes. Let cool for 5 minutes before serving.
Recipe courtesy Dawn Perry, March 2012, of Real Simple Magazine
** Many people commented that this recipe was bland so I really loaded in the seasonings. I tasted it before it went in the baking dish, adjusted seasonings a tad more and thought it was gre
at.
Sharing at: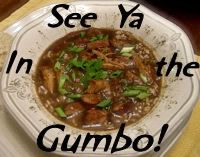 & for
Southern Sundays
at
Slice of Southern
blog