Mrs. Crocker, you've done it again. I'm in supreme bliss due in part to
this Betty Crocker recipe
I found online. I'd purchased blueberries from my local grocery at a bargain and I was given two buckets of peaches that came from my Mom's trees; lucky me! I thought for days about what to do with my bounty, jams or jellies, cobblers, crisps or crumbles?
While I sat, undecided, my peaches were ripening. I admit, I almost waited too long. Then I found
this link for freezing fresh peaches
, which is what I did, and bought myself more decision making time.
Alas, the skies parted (literally) and the rain came down...and I found myself in the mood for comfort food. What's more comforting than an upside down cake?
So here we go-
Topping
2 Tbsp. Butter (I used unsalted butter)
1/4 cup brown sugar, packed
1 Tbsp. orange peel (I skipped this ingredient)
2 cups frozen peach slices, thawed and patted dry
1/2 cup fresh blueberries, washed and patted dry
Cake
1 cup All Purpose flour
1 tsp. baking powder
1/4 tsp. salt
3 Tbsp. butter
1/2 cup granulated sugar
3 egg whites or 1/3 cup egg whites from a carton
2 Tbsp. applesauce
1 tsp. vanilla
1/3 cup skim milk
Garnish
1/2 cup whipped topping (the recipe calls for frozen, but I make mine from freshly whipped heavy cream sweetened with powdered sugar)
1

Heat oven to 350°F. Place 2 tablespoons butter in 9-inch round cake pan; heat in oven until butter is melted. Sprinkle brown sugar and orange peel over melted butter. Arrange peaches over top; sprinkle with blueberries.

2

In small bowl, mix flour, baking powder and salt; set aside.

3

In medium bowl, beat 3 tablespoons butter and the granulated sugar with electric mixer on medium speed until creamy. Beat in egg whites, applesauce and vanilla until smooth. Alternately add flour mixture and milk in 2 additions. Spoon batter over fruit mixture in pan; spread evenly.

4

Bake 30 to 35 minutes or until toothpick inserted in center comes out clean. Cool 5 minutes. Turn cake upside down onto heatproof serving plate. Serve warm with whipped topping.
Recipe courtesy of Betty Crocker
As you can see from my image, the cake doesn't rise much, but the taste is nice. I may have to play with the recipe a bit further...possibly substitute the cake recipe I use for Pineapple Upside Down Cake which rises nicely.
Sharing at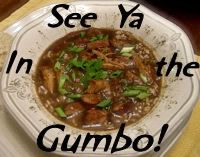 & at A Slice of Southern's Southern Sundays