We are in a homegrown tomato overload situation, here...not complaining. I love our tomatoes. This year a Brandywine Heirloom tomato plant has been the star producer. It's loaded and shows no signs of ceasing, even in our triple digit heat. Our parsley is still hanging on, too.
With our bounty we created this salad to accompany our dinner, the other night.
Here's what you will need to put this fresh and healthy salad together.
Ingredients
Tomatoes, as many as you see fit to serve your family (I used between 8-10 smallish tomatoes), seeded and chopped
1 medium cucumber, chopped in large chunks
a handful of fresh parsley, rinsed, patted dry, and chopped
1/2 cup feta cheese, crumbled
6 pats of soft goat cheese
salt and black pepper to taste
2 to 3 lugs olive oil, I use extra virgin
Directions
Combine all ingredients up to oil. Drizzle olive oil over the salad and toss to coat. You may add green onion and/or Kalamata olives; if you have them, each would be a nice addition.
Sharing on
at
Rattlebridge Farm
. Be sure to check out all the other great recipes shared their.
Also sharing @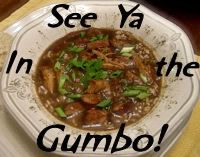 and @
Southern Sundays at A Slice of Southern Blog
.
Have a great weekend!