The weight's down and I started working out. And folks, it has gone in that order. The weight went down...someone commented and I didn't believe them because we've been making desserts almost daily so I checked and it had by like 4 lbs.! Then, I started working out. This hasn't been some sort of New Year resolution, either. I started working out two weeks ago because I figure if I'm paying so much for gym access in University fees, I might as well pop in every now and again. My body is sore, but I feel good. I know that doesn't make much sense. I guess it's a mind thing...not sure if I'll keep it up. It's nice to imagine that if I do keep it up, I may someday look like this...
I know. I know. I said someday, people. Don't scoff. ; )
So, now that you know my life goal. I'll share with you some of the desserts that have made the pounds just melt off lately (In case you're unaware, this is me using sarcasm. Loading up on desserts may not = you losing weight. God has just dealt me an ace this month.)
Dessert # 1- Pecan Pie
1 cup Karo® Light OR Dark Corn Syrup
3 eggs
1 cup sugar
2 tablespoons butter, melted
1 teaspoon Spice Islands® Pure Vanilla Extract
1-1/2 cups (6 ounces) pecans
1 (9-inch) unbaked or frozen deep-dish pie crust
Preheat oven to 350°F.
Mix corn syrup, eggs, sugar, butter and vanilla using a spoon. Stir in pecans. Pour filling into pie crust.
Bake on center rack of oven for 60 to 70 minutes (see tips for doneness, below). Cool for 2 hours on wire rack before serving.
Recipe provided by:
http://www.karosyrup.com/recipe_details.asp?id=485
*Note to folks: I've tried a variety of pecan pie recipes and the one that never fails is this one from the Karo Syrup bottle; go figure. Sometimes it's best to just go with what you know and not try to church things up. The lesson I've learned from trying the various pecan pie recipes- If it ain't broke, don't fix it.
Dessert #2-Sugar Cookies
1 cup butter or margarine, softened
1 cup granulated sugar
1 large egg
1 teaspoon vanilla extract
3 cups all-purpose flour
1/4 teaspoon salt
1. Beat butter at medium speed with an electric mixer until creamy. Gradually add granulated sugar, beating well. Add egg and vanilla, beating well. Combine flour and salt. Gradually add to butter mixture, beating until blended. Divide dough in half. Cover; chill 1 hour.
2. Roll each portion of dough to 1⁄4-inch thickness on a lightly floured surface. Cut with desired cookie cutters. (We used flower and starfish cutters.) Place on lightly greased baking sheets.
3. Bake at 350° for 8 to 10 minutes or until edges of cookies are lightly browned. Cool cookies 1 minute on baking sheets, and remove to wire racks to cool completely.
4. Dip cookies in Glaze and sprinkle, while wet, with sparkling sugar (I pressed mine with a little heart shaped cutter and sprinkled cinnamon and sugar on them for VD).
Recipe courtesy of Southern Livings' book: Best Kept Secrets of the South's Best Cooks
Dessert #3- Creamy Lemon Pie
3 egg yolks
1 (14 ounce) can EAGLE BRAND® Sweetened Condensed Milk
1/2 cup lemon juice
1 (8- or 9-inch) baked pie crust or graham cracker crumb crust
Topping:
1/2 cup Heavy Whipping Cream
1/4 cup or more to taste of Powdered Sugar
8 oz. Mascarpone Cheese
Blend yolks, lemon juice, and sweetened cond. milk. Pour into crust and bake for 35 minutes in a 325 degree Fahrenheit oven. Chill for at least 3 hours before serving. Top with whipped cream topping.
For topping blend all ingredients just until they all come together and cream begins to set up.
There you have it folks. Note: I'm not including the recipe for Chocolate Chip cookies because I use the Nestle Toll house recipe, and I'm not adding in the Neapolitan Ice cream that we've had on nights when no baking was involved. Seriously, folks. It has been dessert heaven, lately. I hope you find something to try and sweeten up your week! And, I think the key to weight loss is to lose the stress, not the sweets :)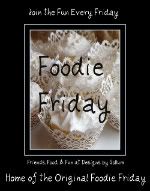 I'm sharing on Foodie Friday @ Designs by Gollum, by the way~
Tootles,
The Kitchen Witch