I found this recipe on the Good Housekeeping site by chance. They named the recipe, "Not Your Grandma's Vegetable Soup," which is true, this is like nothing my grandmother's soup, but I'm willing to bet that there are many of you whose grandmas made a soup very similar if not just like this. From what I've seen of Borscht recipes, they all vary somewhat. Some have potatoes, some have celery, and yet others have a meat stock. To each there own. Here's the recipe I followed with a few Kitchen Witch changes, of course.
1 clove garlic, crushed (I minced 3 cloves of garlic)
1 (14-1/2 oz.) can diced tomatoes
1 lb. beets (not including tops), shredded (I used three beets and grated them)
6 cups sliced green cabbage (I rough chopped the cabbage)
3 large carrots, cut into 1/2 inch chunks (I think I'll grate the carrots in the future)
1 (15 oz.) can vegetable broth
3/4 tsp. salt (I adjusted salt to taste)
2 tbsp. red wine vinegar (I also added the juice of 1/2 a lemon)
1/4 cup loosely packed fresh dill or parsley, chopped (I used dried dill, 3 tbsp.)
Reduced fat sour cream, optional (I used reg. sour cream since that's what I had in the fridge, but go low fat if that's what you like.)
---
In 5- to 6-quart saucepot, heat oil on medium until hot. Add onion and cook 8 minutes or until tender. Stir in garlic and allspice; cook 30 seconds. Add tomatoes and cook 5 minutes.

Meanwhile, peel beets and shred in food processor (or on the coarse side of box grater).

Into saucepot with onion mixture, stir beets, cabbage, carrots, water, broth, bay leaf, and salt; heat to boiling on high.

Reduce heat to medium-low; cover and simmer about 30 minutes or until all vegetables are tender. Remove bay leaf. Stir in vinegar and dill. Serve with sour cream if you like.





Calories
160
Total Fat
5g
Saturated Fat
1g
Cholesterol
5mg
Sodium
920mg
Total Carbohydrate
27g
Dietary Fiber
6g
Sugars
--
Protein
5g
Calcium


Read more: Not Your Grandma's Vegetable Soup - Good Housekeeping
As a side, beets are very good for you. Have you heard the term, "eat your colors?" Beets, in all their scarlet splendor, apply to this rule well. What gives them their color also gives them their added health benefits so eat them up. Mmm, mmm, good.
Sharing @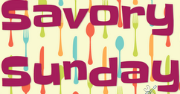 ,
@
Designs by Gollum
,
Simply Delish Saturday
and @