When I was a little girl, my mom bought me a
Hershey's Chocolate Lover's Cookbook
. My eyes danced across the pages as quickly as my fingers could turn them. I drooled over the images and was excited to try out the recipes. I've never made it all the way through the book, but the pictures still look tempting so maybe I'll bake my way through it, yet. Big Sissy and I had the idea to try out this recipe for her birthday cake. It seems festive, appropriate for a December baby.
Here's what you'll need:
2 cups sugar
1-3/4 cups all-purpose flour
3/4 cup cocoa powder
1-1/2 tsp. baking powder
1-1/2 tsp. baking soda
1 tsp. salt
2 eggs
1 cup milk
1/2 cup vegetable oil
1 cup boiling water
Peppermint filling
Cocoa glaze
Peppermint Filling
1-1/2 cups cold whipping cream
1/2 cup powdered sugar
2/3 cup finely crushed hard peppermint candy OR 1/2 tsp. mint extract
3/4 tsp. vanilla extract
several drops of red food coloring
Cocoa Glaze
2 tbsp. unsalted butter or margarine
2 tbsp. Cocoa powder
2 tbsp. water
1 cup powdered sugar
1/2 tsp. vanilla extract
Heat oven to 350 degrees Fahrenheit. Grease and flour three 9-inch round baking pans. In a large mixing bowl, stir together dry ingredients. Add eggs, milk,oil, and vanilla; beat on medium speed of electric mixer 2 minutes. Stir in boiling water, batter will be thin (I almost forgot this step and began to pour batter in prepared pans...eek).
Bake 20-25 minutes or until wooden pick inserted in center comes out clean (my oven always takes longer so this was between 30-35 minutes for me). Cool for 10 minutes; remove pans to wire racks to cool completely. This is important because warm cakes would surely melt the whipped cream.
Spread peppermint filling between the layers (The book made three, I didn't have 9-in pans so only made two), reserving 1/2 cup for garnish. I didn't do the garnish, but had plenty of filling left over. Instead I sprinkled some crushed up peppermint on top of the cocoa glaze. which is spread over the top of the torte. Refrigerate (and refrigerate your leftovers...whipping cream).
For the filling- In a small mixing bowl, beat whipped cream and powdered sugar until stiff. Fold in peppermint candy and/or extract, vanilla, and red food color until evenly blended.
For the glaze: In a small saucepan over low heat, melt butter; add cocoa and water, stirring constantly until slightly thickened. Remove from heat and gradually add powdered sugar and vanilla, beating with a wire whisk until smooth and of spreading consistency. Add an additional water 1/2 tsp at a time if too thick.
**
I'm thinking the next time I make this cake, I'll make some sort of thicker filling. Even though the whipping cream was beaten stiff, it still smushed out the sides when the top layer was placed on. Maybe a peppermint flavored butter cream would prove thick enough, Thoughts?
Sharing @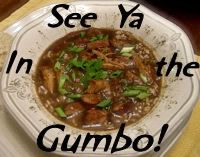 &